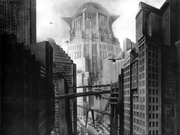 The Tower Of Babel is the highest building in the city of metropolis.
The Building was own by Joh Frederson. The Building is known as the City hall because thats the building where The mastermind or joh frederson works.
The Tower was constructed years ago. Years later the tower was renovated and turn into the new tower of babel.
Ad blocker interference detected!
Wikia is a free-to-use site that makes money from advertising. We have a modified experience for viewers using ad blockers

Wikia is not accessible if you've made further modifications. Remove the custom ad blocker rule(s) and the page will load as expected.